The male shaving market in western countries has long reached saturation: every man who needs to shave, generally, has strong brand loyalty and simply replaces their razor with their existing model. Thus, a market penetration strategy, like advertising, is unlikely to have any worthwhile impact – as in generating an efficient ROI – on sales revenue. Hence, 'Wilkinson Sword' have gone through the trouble of R&D and innovation to maintain sales at te expense of competitors; not only is the market saturated, it is moreover a highly competitive oligopoly due to the high number of substitutes, according to Michael Porter's Five Forces. Their latest product, 'Hydro', features patented technology that allegedly hydrates skin while shaving in order to reduce irritation. In addition to the 6 years of development to market launch, the product life-cycle is being micro-managed further with the aid of a £20 million marketing campaign. However, will this translate into a positive consumer perception and ultimately sales?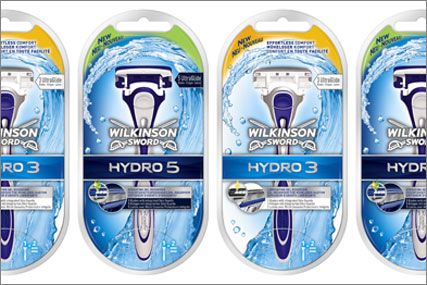 While one may assume that this product has been launched out of a desire to increase sales, in fact, due to the external market conditions, it may be more of a necessity to maintain sales revenue; the launch of 'Hydro' follows the launch of 'Proctor & Gamble's' 'Gillette Fusion'. Therefore, it is vital and a highly complex task to manage the marketing planning cycle: creating ideas, nurturing a product portfolio and reviewing the long-term vision in order to repeat and improve the process. This is all in the name of just maintaining sales – albeit in another industry the same strategy may have far more benefits once implemented.
Also, this strategy provides a launch-pad into other marketing strategies, and, in this case, related diversification. For instance, the razors will be marketed along side accompanying pre and post-shave washing gel. Therefore sales revenue may, after-all, increase regardless of the competitive market conditions. It may be the scenario when existing customers come to replace their existing razors with 'Hydro', price promotions can be used – especially if a loss leadership tactic is used – that encourage customers to purchase more from the same product range. Hence, brand loyalty is vital and needs effective consumer relationship marketing to fully live out cross-marketing tactics and 'Wilkinson Sword's' vision.
But on the downside, while the technology may be 'new and improved' the consumer's benefits are inevitably the same: an even cleaner and closer shave. Therefore, while the complex R&D process is essential, it may not actually be of interest to the consumer: when marketing, one should sell the benefits of a product rather than the product itself. If you keep this mind, why then should consumers purchase this benefit when, not only their old razor, but all the competitors offer a cleaner and closer shave too? This problem is a common issue in marketing – often R&D and innovation are closely linked together on the product development, however the marketing of the product needs to be more consumer focused.
Overall – albeit, in my opinion,'Hydro' is just another 'shaving breakthrough' that lacks real substance – I believe the strategy will succeed because of how effective 'Wilkinson Sword' have been hitherto at marketing management while responding to their competitors' strategies. Moreover, in the U.S 'Wilkinson Sword' have benefited from a sales growth of 2.5% in the past 12 months. However, the U.S market is very deceptive and a surprisingly poor test market for the U.K. And while 2.5% is impressive, I feel that the real potential for revenue increase is in emerging markets; therefore it may not be a product development strategy that resources should be targeted at, but a market development strategy.
© Joshua Blatchford author of Manifested Marketing 04/10/10